Veterans Disability Benefits: Eligible Conditions
Approximately 3.5 million U.S. veterans report having a disability that prevents them from gaining meaningful employment and diminishes their quality of life.
Unfortunately, many disabled veterans aren't aware that they may be eligible for veterans disability benefits.
Tennessee disability attorney Michael Hartup is dedicated to helping disabled veterans get the financial assistance they need and deserve.
If you need help applying for veterans disability benefits or appealing a denied claim, please call us today at 731-513-5282 or contact us online for a free consultation. We welcome clients from the greater Jackson, Tennessee, area.
Who Can Receive Veterans Disability Benefits?
Veterans disability benefits are administered by the Department of Veterans Affairs (VA) and consist of tax-free monthly payments to veterans who became disabled due to service-related injuries or illnesses.
Disability benefits are also available to veterans who suffer from a pre-existing condition that was made worse by their military service.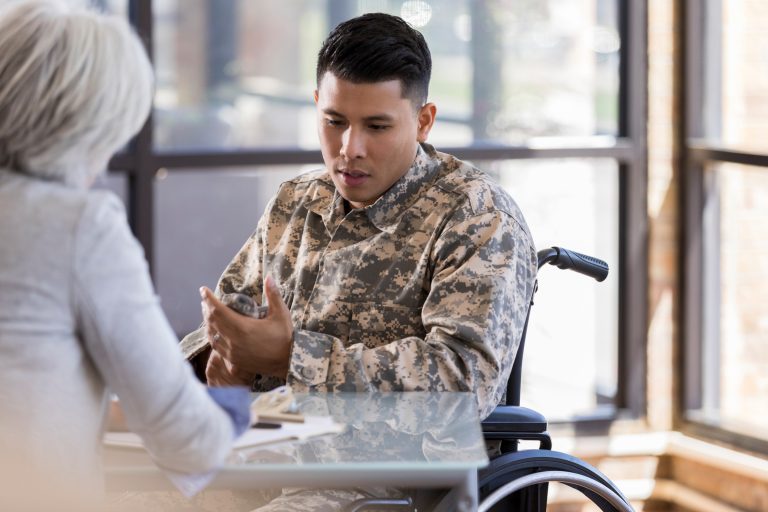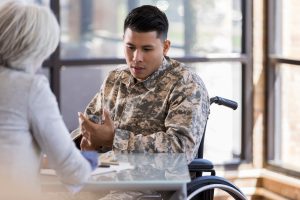 There are different types of veterans disability benefits, and eligibility varies based on the specific type of benefits sought.
However, to receive any VA disability benefits you must meet both of the following requirements:
You must have served on active duty, active duty training, or inactive duty training
Your service-connected injury or illness must have received a disability rating from the VA
Along with meeting each of the above requirements, one of the following statements must also be true:
You became sick or injured during your service and can link this condition to your military service
You had a pre-service injury or illness that was made worse by your military service
You were diagnosed with an injury or illness after your service that was related to your active-duty service
The VA's disability benefits programs cover a wide variety of physical and mental conditions. Qualification for benefits is based on a number of factors, including the numerical disability rating assigned by the VA, your financial needs, and your time of service.
Disabilities Covered by VA Benefits
Below is a list of categories of injuries, illnesses, and disorders currently covered by VA disability benefits programs. It's important to note that applicants are required to have their conditions evaluated by VA medical professionals before benefits approval is granted.
Not all qualifying injuries and illnesses are posted here, and the VA regularly updates its list of eligible conditions.
Cancers
Eligibility for various cancers is evaluated based on the origin of cancer, the extent of involvement, treatment availability, and the effects of any post-therapeutic efforts.
Eligible forms of cancer include but are not limited to:
Lymphoma
Leukemia
Breast cancer
Brain and spinal cord cancers
Prostate cancer
Melanoma
Cardiovascular Conditions
Veterans can be awarded service-connected disability compensation for various cardiovascular conditions. This is a broad category covering heart function and the circulatory system, which includes arteries, veins, capillaries, and lymphatic drainage.
Eligible disorders include:
Chronic heart failure (must include both systolic and diastolic failures to qualify)
Ischemic heart disease (reduced blood flow to the heart)
Coronary artery disease
Recurrent arrhythmias (deviations from normal rhythm or beating of the heart)
Heart transplant
Dermatological Conditions
Exposure to environmental hazards while on active duty may lead to skin disorders, with many veterans suffering lasting dermatological effects from skin injuries and burns. Skin disorders in veterans are evaluated based on the extent of skin lesions, the frequency with which they occur, how symptoms limit a person's day-to-day functionality, and available treatment. In most cases, the skin disorder must persist for at least three months despite treatment or medication.
Eligible skin disorders include:
Ichthyosis (dry, scaly, or thickened skin)
Bullous disease (large, fluid-filled blisters)
Chronic infections of the skin or mucous membranes
Dermatitis
Genetic photosensitivity disorders
Burn-related skin lesions expected to last no less than 12 months
Gastrointestinal Disorders
There are numerous gastrointestinal problems for which service-connected benefits may be obtained. This category covers the digestive system, including the esophagus, gallbladder, stomach, and intestines.
Eligible disorders in this category include:
Cholecystectomy
Colitis
Pancreatitis
Esophageal spasm
Gastroesophageal reflux disease (GERD)
Hiatal hernia
Hepatitis
Irritable bowel syndrome (IBS)
Diverticular disease
Cirrhosis
Infectious intestinal disorders
Infectious Diseases
The VA has recognized the enormity of health risks involved with service in certain parts of the world and has identified a number of infectious diseases that may be service-connected.
These diseases include:
Brucellosis
Campylobacter jejuni
Coxiella burnettii (Q fever)
Malaria
Mycobacterium tuberculosis
Nontyphoid salmonella
Shigella
Visceral leishmaniasis
West Nile virus
Mental Disorders
Nearly 1 in 4 active-duty U.S. Army personnel showed signs of a mental health condition following their military service, according to recent research published in the journal JAMA Psychiatry. Post-traumatic stress disorder (PTSD) is one of the most common mental disorders among U.S. veterans of all branches.
Other eligible mental health conditions include:
Psychotic disorders, such as schizophrenia
Clinical depression
Bipolar and other mood-related disorders
Intellectual disorders
Anxiety or obsessive-compulsive disorder (OCD)
Personality and impulse-control disorders
Dementia
Alzheimer's disease
Huntington disease
Neurodevelopmental disorders
Eating disorders
Stress or trauma-related disorders
Musculoskeletal Disorders
Veterans are more likely than non-veterans to develop musculoskeletal disorders that impair their mobility and limit their ability to work. Musculoskeletal disorders affect muscles, bones, and joints.
In order to qualify for veterans' disability benefits, the disorder must cause "major dysfunction." The disorder itself can result from any cause, such as hereditary, congenital, developmental events, and repetitive trauma.
Eligible disorders under this category include:
Degenerative disc disease
Osteoarthritis
Vertebral fracture
Arthritis
Amputation
Major fractures, such as the femur, tibia, pelvis or the tarsal bones
Soft tissue injury
Neurological Disorders
Neurological disorders affect the nervous system, which is responsible for sending and receiving messages throughout the brain and body. In order to qualify for veterans disability benefits, the limitations resulting from a neurological disease are evaluated by both medical and nonmedical evidence.
In most cases, limitations caused by a neurological disorder must exist despite treatment and result in a "disorganization of motor function." This means the disability must result in the inability to stand, balance, or use the upper extremities like hands, fingers, or arms.
Eligible disorders in this category include:
Epilepsy
Benign brain tumors
Parkinsonian syndrome
Cerebral palsy
Multiple sclerosis (MS) or amyotrophic lateral sclerosis (ALS)
Muscular dystrophy
Traumatic brain injury (TBI)
Coma or persistent vegetative state
Respiratory Conditions
Exposure to airborne toxins while on active duty, particularly with veterans who served in Afghanistan and the Middle East, may lead to breathing difficulties and respiratory illnesses that begin during active duty or are diagnosed after returning home. Airborne toxins can include pollution, smoke from fires, and chemicals among other hazards.
Illnesses in this category include:
Asthma
Chronic bronchitis
Emphysema
Sarcoidosis
Sleep apnea
Vision or Hearing Loss
Hearing loss, as well as tinnitus (ringing in the ears), is common among veterans. Other veterans may suffer vision loss or other eye-related problems.
Service-connected disability compensation is available for eye and ear problems. This category covers vision, speech, and auditory impairments.
Eligible disorders include:
Blindness
Loss of central visual acuity (the remaining vision in the better eye is 20/200 or less)
Loss of speech (due to any cause)
Conditions Worsened by Military Service
While the VA can deny benefits for conditions that existed prior to a person enlisting in the U.S. Armed Forces, it may also grant benefits for individuals whose conditions were aggravated by their military service.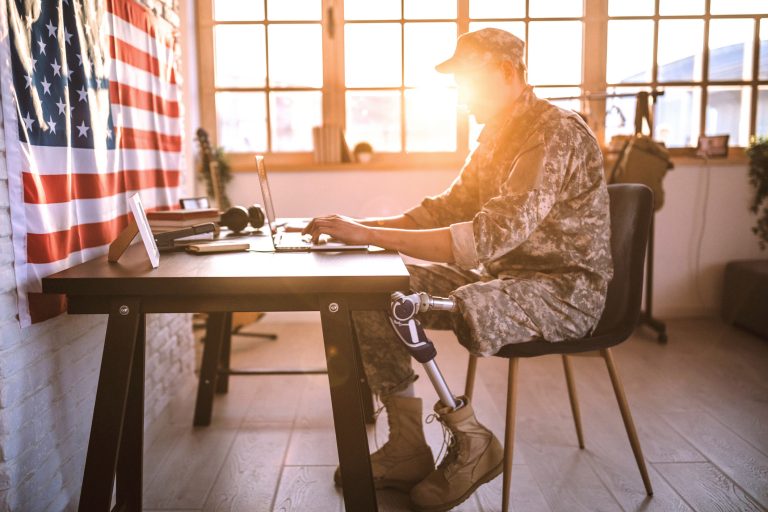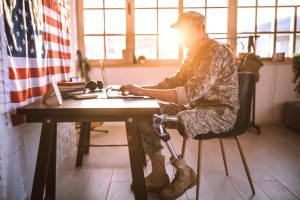 The first step in these cases is establishing that your condition existed prior to service. This will likely be noted in your military entrance documentation, but if not it may be necessary to track down medical records from prior doctor or hospital visits.
Next, it must be demonstrated that your condition worsened due to active duty and not simply because of the natural progression of the injury or illness. For example, if the VA can prove that your condition would have grown worse even if you weren't serving, it can deny benefits.
Contact an Experienced Disability Lawyer Today
Although you are not required to work with a lawyer when applying for veterans disability benefits or appealing a denied claim, doing so has advantages.
The Law Offices of Michael Hartup handles only disability cases. Tennessee disability attorney Michael Hartup understands the VA benefits process, and he has extensive experience helping disabled veterans get the financial help they need and deserve.
At the Law Offices of Michael Hartup we can help you file your initial application for benefits, or guide you through the appeals process if you believe your claim was wrongfully denied. The VA benefits process can be confusing, and many disabled veterans who otherwise have qualifying disabilities are denied due to simple mistakes in their applications.
To learn how we may be able to help you, please call us today at 731-513-5282 or contact us online for a free consultation. We are proud to serve veterans from the greater Jackson, Tennessee, area.